If you're looking for the best free web hosting for your website you have come to the right place. All the services included at this site have been handpicked and fully tested to ensure they come everything you need to help you get started to create a website online.
If you're starting out and don't have the money to host a website using a free website hosting service rather than a paid service could be the right choice for you to help you build a website.
Although free hosting services do have limitations and you are also subject to some restrictions they still provide you with everything you need to get your website online. Most of the services also fully support WordPress and other popular content management systems like Joomla.
The number of services offering free website hosting has increased and the quality of the services available has also improved over time.  However as with everything that's free you will still have some limitations including the disk space you get, the bandwidth you can use and resources on the server you can use.
Free Hosting Advantages
It's free to use.
Good for people who want to build a simple blog or business website.
Great for newbies just getting started with hosting who want to get familiar with the basic features and functionality a service has to offer including FTP, Email, MYSQL, PHP and more.
The service will normally come with everything you need to build a website including email, MYSQL database, support for PHP, disk space and bandwidth plus more, however, there will be limitations.
Good for testing out WordPress or Joomla or another free CMS before you decide to invest in a paid hosting service.
If you like the free service you can easily upgrade to the paid service which offers more premium features.
You will receive limited support from the support team however as its a free service you will have a wait longer.
Free Web Hosting Disadvantages
The service will have limitations on disk space, bandwidth, server CPU and memory resources.
Your website may be hosted on a low spec, out of date server with all the other free websites.
You will be sharing the same server as thousands of other websites some of which could be spamming or include illegal content and much more.
The support you receive will be limited if you have a technical issue or your website goes offline then you will have to wait longer to get a response to your support enquiry.
Some of your website functionality may not work as you expect it to. For example, if you're using WordPress or Joomla! and install a theme or plug-in the service may not provide support for the theme or plugin.
It may impact the overall speed and performance of your website as the server hosting the free websites could have thousands of other free websites using its resources.
To conclude the disadvantages may out weight the advantages however the bottom line is the service is free and is great for anyone just started out looking to build a blog or small business website or for people who want to get themselves familiar with the basic features and functionality before upgrading to a premium service.  You have nothing to lose, give one of the services listed below a try, it's Free!
Free Website Hosting Services
We have selected the following free website hosting services which come with everything you need to help you build a website for your blog or business website. All the services included in this list has been tried and tested by us to ensure they offer 100% free to use.
Inifinity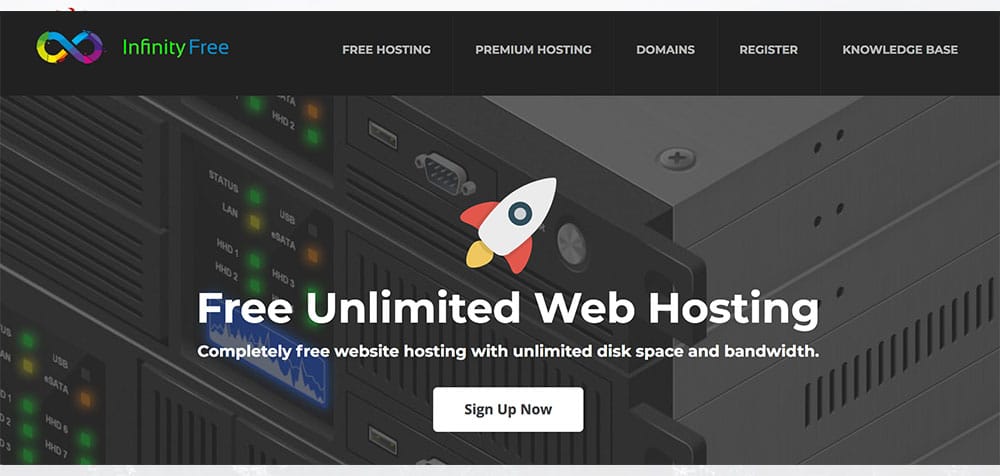 inifinityFree is a new company that offers free services online.  InifinityFree has one advantage over its competitors based on the fact that it offers unlimited disk space and bandwidth to customers which is really great where many of its competitors have restrictions in place on the amount of bandwidth you can use. The free plan does, however, come with some limitations which may need to review before signing up for an account at the website. You can easily run a Joomla or WordPress with the plan InifinityFree.net offers. The plan they offer also comes with a free SSL certificate, MYSQL database, support for PHP and free email accounts. Overall this is a pretty good free domain hosting package and well worth looking at if you want to save money and get a website online.
Features
Unlimited Disk space
Unlimited bandwidth
Ad-free
Forum-based support
Script Installer
Free SSL certificate
400 MySQL databases
10 email accounts
000 WebHost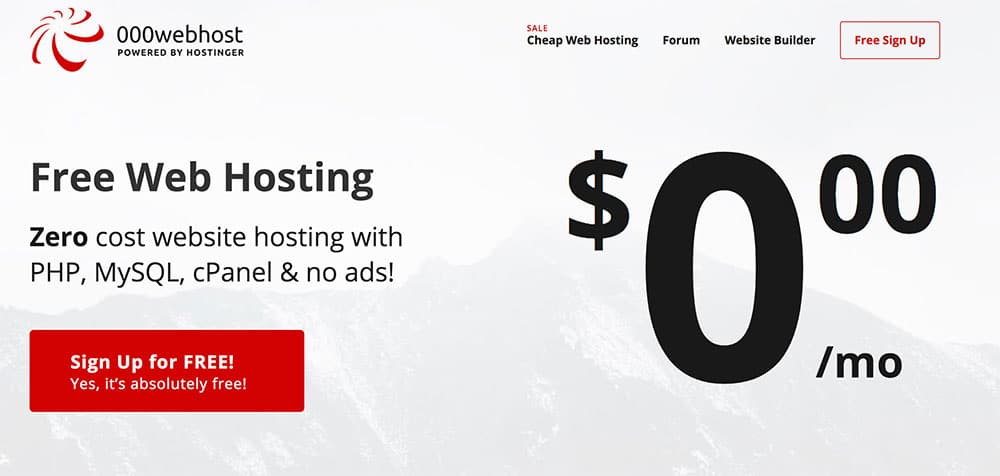 000WebHost has been around for over 10 years and has gained a good reputation among businesses and individuals across the world. They offer a free plan which comes with all the features to need to get your website online.  You are not required to display advertisements on your but if you need new more features and functionality then you will need to upgrade to the paid service plans.
The free plan 000WebHost provides you with access to their website builder which includes hundreds of templates for you to choose from. The platform also supports the popular programming languages, such as PHP and MySQL.  You can also install a content management system like Joomla, WordPress or Drupal from the control panel with one click.  Overall 000WebHost offers a pretty good for package considering the fact that it's free.
Features
1 MB of Disk Space
10 GB of bandwidth
99 per cent uptime guarantee
Ad-free
Forum-based support
Script AutoInstaller
Free website builder
cPanel
FreeHosting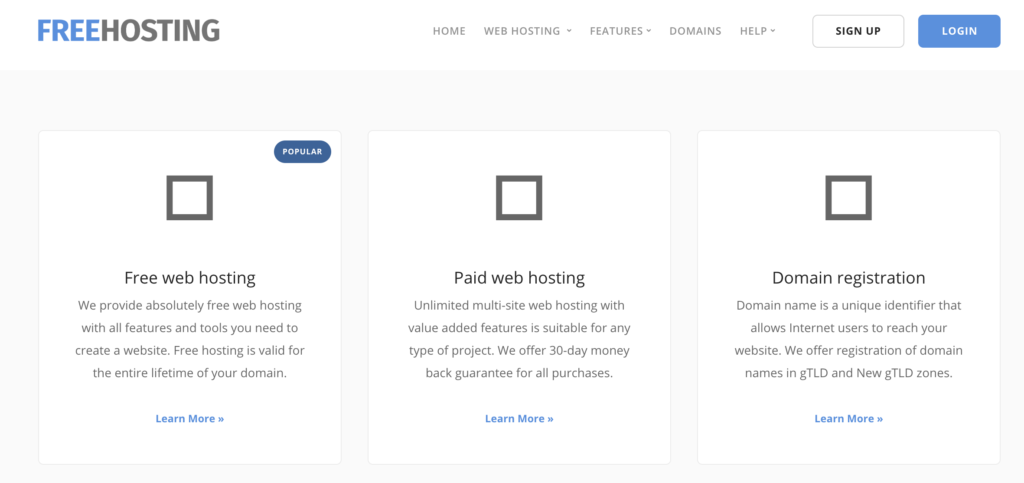 This website does what it says on the tin and offers free web hosting to people around the world who are looking for a cheap way to create a website online .is about providing you with reliable free service and nothing more. When you sign up to the service you know exactly what you're getting, no hidden catches if you want more features and functionality then you need to upgrade its that simple and, to be honest, a fair deal considering the fact the company is giving you this service for free! Some of the key features you don't get include a domain or SSL certificate you are also limited to 10GB of disk space with is more than enough for anyone looking to create a website. The service does include the cpanel and the popular script installer so you can easily install Joomla or WordPress on your website.  If you need a cheap and in 100% free WordPress hosting service to create a new blog or to have a web presence online for your business we would highly recommend this service to you.
Features
10 GB of Disk space
Unmetered bandwidth
Ticket-based support
Automatic script Installer
1 free email account
MySQL database server
PHPmyAdmin
Free Hostia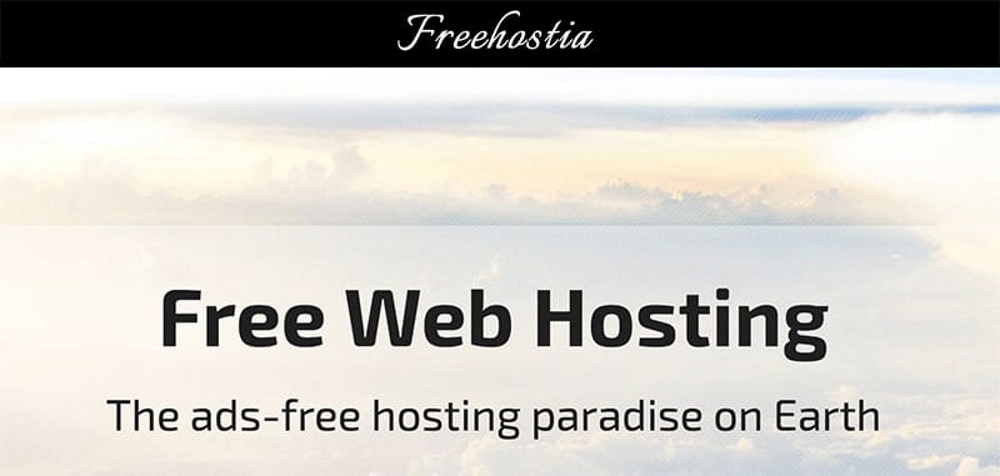 FreeHostia is been around for a while now offering a free service to people who want to host a website. The features included in the plan they offer includes 256 MB of Disk space, 6 GB bandwidth, support for PHP and MYSQL database, you can host up to 5 website domains plus you get access to the one script installer where you can install Joomla or WordPress plus many other cool scripts directly from the hosting control panel. They also claim to offer a 99.9% uptime rate for the service they offer which is great. If you're looking free service that comes with all the features you need to create a website then check out these guys today. If you need something extra like an SSL certificate of another email address or MYSQL database then you can always upgrade to the paid plan with a click of the button.
Features
6 GB bandwidth
Ticket-based support and self troubleshooting
One-click script installer
3 free email account
Can host up to 5 domains
MySQL database storage
X10 Hosting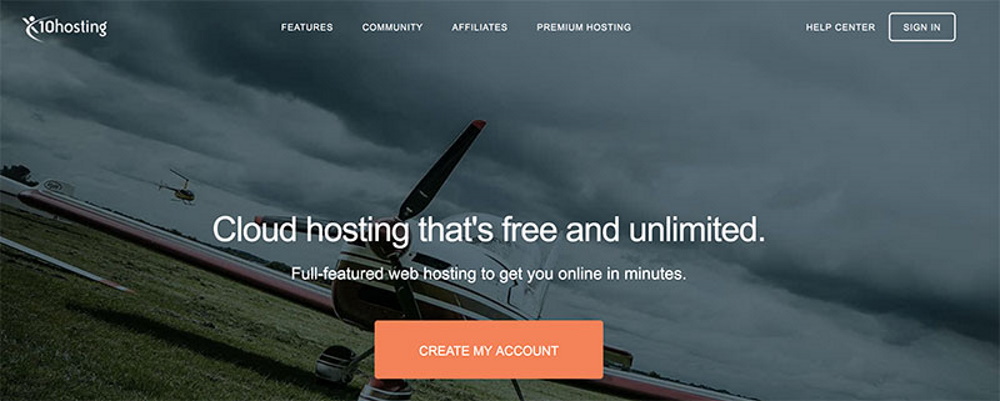 If you're looking for a cloud provider that has over 10 years in the business and good track record good services then it's worth taking a look at x10Hosting. The free plans they offer comes with unlimited disk space and unlimited bandwidth plus a feature-rich website builder and a choose of over 300 one-click installs. The platform also supports the latest versions of PHP and MYSQL so you can easily run WordPress or another content management script for your website. They even host your data on super-fast SSD devices to ensure your websites load super fast. If you're looking for cheap hosting which is 100% free that comes with some great built-in features that will allow you to create a website then take a look at what this provider that to offer
Features
Unlimited Disk space
Unlimited bandwidth
Forum-based support
One-click script Installer
No free email account
cPanel X3
MySQL database management tools
Award Space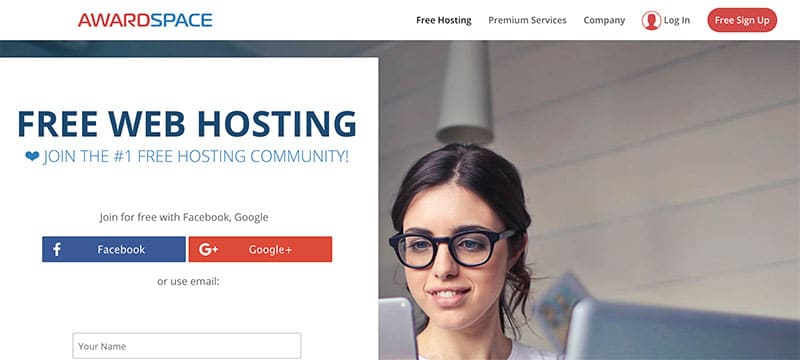 AwardSpace offers a free website hosting for people who want to create a website online. The service they offer comes with lots of cool features including a free domain, 100 MB of SSD disk space, 5 GB of super-fast bandwidth, 1 email account plus the package they offer provides you with access to 300 amazing scripts including Joomla, WordPress, PHPBB and many more open-source scripts which you can easily install via your website with a simple one click. You can also host up to 4 websites using this plan which gives you more flexibility to create new websites. If you're worried about ads been placed on your website, don't! as the platform is 100% ad-free. To find out more about awardspace.com has to offer to visit their website today to build your website.
Features
1000 MB Disk space
5 GB bandwidth
Bandwidth tracker
24/7 customer support
One-click script Installer
1 free email account
The free domain name and 3 free subdomains
Full MySQL database support and PHPmyAdmin
Byet Host

Byet host offers some great features to help you to build a website in minutes. Their platform is very easy to use. Instead of the traditional cPanel interface, ByetHost has its own proprietary control panel, called VistaPanel. It's easy to use by users of any skill level. Whether you're a novice or a seasoned web developer, you won't have any issues taking control of your website with this control panel. They give you five email accounts and unlimited MySQL databases for your convenience.
When it comes to performance, ByetHost really delivers. The company manages its own hosting network. It's comprised of powerful servers that are arranged in a grid pattern. The equipment is constantly maintained for good performance. This ensures that your website has a high uptime rate.
ByetHost includes an Automatic Script Installer. It's compatible with many popular applications, such as WordPress, Mambo, 4Images, and so much more. The hosting company also provides you with PhpMyAdmin, bandwidth statistics, unlimited add-on domains, and free customer support around the clock.
Features
1 GB of Disk space
5 GB bandwidth
Automatic script installer
5 email accounts
Unlimited MySQL database
In-house VistaPanel control panel
No forced Ads
Free Virtual Servers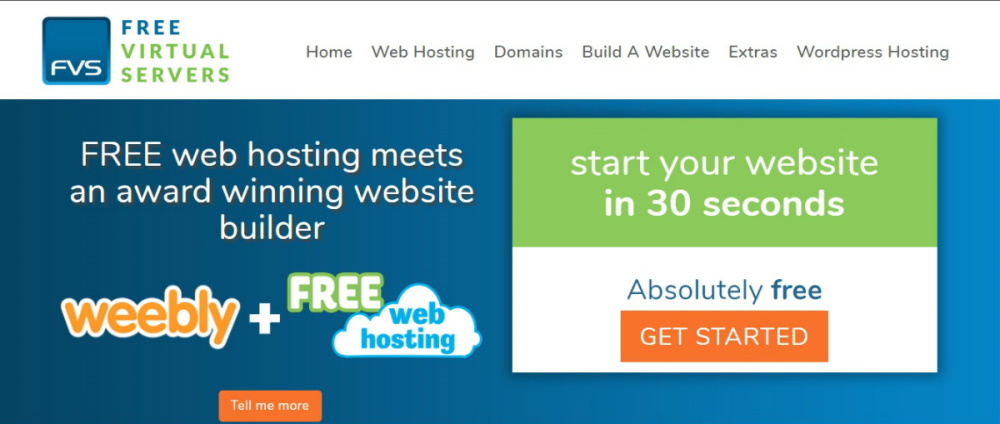 freevirtualservers.com has been offered a free hosting service to customers for a few years now. They have been very transparent with people about what they offer they also never throttle speeds, prevent you from accessing your own account or compromise your experience in any way just because you're on a free account. Each plan comes with 200MB Bandwidth, 100MB Web Space, Weebly Website Builder to help you create a website, 1 MYSQL database and 1 email account plus FTP account. Please note this is a UK based service so if your based outside of the UK this service maybe not be suitable for you. We have tested the service these guys offer and have been really impressed with the overall service we received from this company
Features
200MB Bandwidth
100MB Web Space
Weebly Website Builder
1 Database
1 Email Account
1 FTP Account
https://www.freevirtualservers.com/free-hosting
Weebly
Weebly is one of the most recognizable names when it comes to website building. The company has created a very user-friendly platform that allows you to make sleek and modern websites without the need to worry about complicated programming. To help you get your site seen by the masses, Weebly also offers free web hosting.
The plan is limited in terms of features. However, you can take advantage of Weebly's reliable server infrastructure to ensure that your site is performing well for your audience. They offer 500 MB of storage space. Thanks to the intuitive website builder, you can use this space strategically and produce a beautiful website you'll be proud to show off. Luckily, Weebly doesn't have strict limitations for bandwidth. Weebly does things a bit different. Your website is served across the entire server system. This helps to prevent performance issues that are caused by other shared sites.
Weebly offers some great perks with the free plan. In addition to unlimited bandwidth, they offer a subdomain and free SSL security for peace of mind. There's also search engine optimization to help your website reach its full potential. Once you're ready, Weebly offers a range of other plans as well.
Features
500 MB of Disk space
Unlimited bandwidth
Free Weebly subdomain
SSL security
Free SEO
Works seamlessly with Weebly website builder
Wix
Another familiar name in website building, Wix offers free website hosting services to those looking to publish a quick, easy, and beautiful site. Wix is ideal for smaller websites. They offer 500 MB of Disk space for your website and 500 MB of bandwidth for traffic. While that may not seem like much, the company's website builder allows you to do a lot with that limited space.
Wix also offers additional features to its plans. For one, the company focuses a lot on security. Websites are hosted on servers that are located around the world. They're very reliable, providing a 99.9 percent uptime rate. Servers are constantly monitored for safety. In fact, Wix complies with international security standards to keep you and your visitors safe. When you are ready to expand your online offerings, Wix does have many paid plans. Some of these plans include search engine optimization, e-commerce capabilities, and more.
Features
500 MB of Disk space
500 MB of bandwidth
Free Wix subdomain
99.9 percent uptime
website builder